This gnocchi with tomato cream sauce recipe is similar to the gnocchi della nonna dish served at Nando Milano, a favorite local restaurant. It is creamy and cheesy, so definitely a comfort food. It also turns out to be super easy to prepare.
To make it easy, We often use the refrigerated gnocchi. That makes for a quick weekday meal. Someday we will make gnocchi from scratch. I need to get a potato ricer. That is one tool we don't have in our kitchen.
Quick notes
I really like the parmesan cheese to have a bit of texture. That is one of the things I liked about this dish in the restaurant. Adding the cheese at the very end seems to do that. My cream sauce is similar to one that I like from The Pasta Bible cookbook. I prefer to cut the cream by half though.
Variations
Half portions work well as a side dish.
Tools
This stick blender works well: Cuisinart CSB-75BC Smart Stick 2-Speed Immersion Hand Blender. We just got this in late 2013 after our old one which was a Williams Sonoma one stopped working. Prices have come down a lot since we bought the previous one unless you get the multifunction kind. They make stick blenders with whisk attachments and choppers. I didn't need those functions. I would use the food processor or a stand mixer for those things, so I got this basic one. It is only a blender.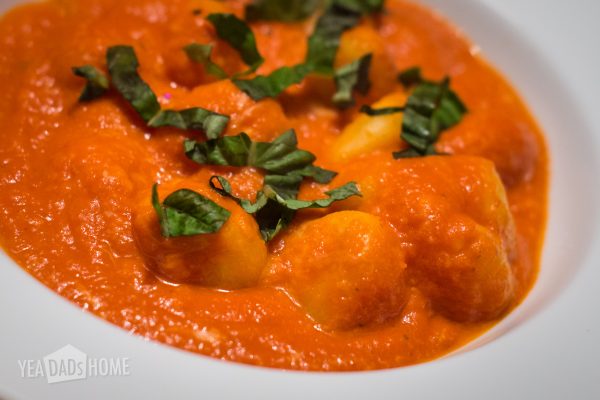 | | |
| --- | --- |
| | |
Instructions
Sauce
Combine tomatoes and wine in a saucepan and simmer for 10 minutes.

Add cream to sauce and reduce heat to low as you cook the Gnocchi.
Gnocchi
Fill a large pot with water and bring to a boil then add a few teaspoons of salt.

Boil gnocchi as the package describes, about 3-4 minutes. Keep a half cup of pasta water just in case you need it, then strain off the water.

If sauce is lumpy, use a stick blender to smooth it out.

Add pasta water a quarter cup at a time if sauce seems thick.

Just before serving, gently combine gnocchi and parmesan cheese in the sauce.

Portion into bowls and garnish with the basil.