This chicken tortilla soup is really tasty. It has been a favorite for a long time. It works as an evening meal or a weekend meal when we don't feel like doing a ton of cooking. The only work is pulling the meat from a deli chicken and sautéing some onions. The soup can either be pulled together in 30 minutes.
We got the idea from a recipe that I found in Cooking Light. I can't find the recipe that we started with on their site. Looking at it now I am a bit surprised that I printed the recipe we started with in 2002. Luckily it has been in plastic. Over time we adjusted the spices to our taste, and in this case we actually doubled them compared to the original. That doesn't mean that our version is overpowering. It is just more interesting.
This soup is kid compatible in our house. We do give him a bit more sour cream if he wants it.
Notes
A cooked deli chicken makes about 3 cups of shredded chicken.
We use a slow cooker that has a a cast aluminum insert. That way we don't have to use one pan for the onions, the insert just moves from the stove to the slow cooker.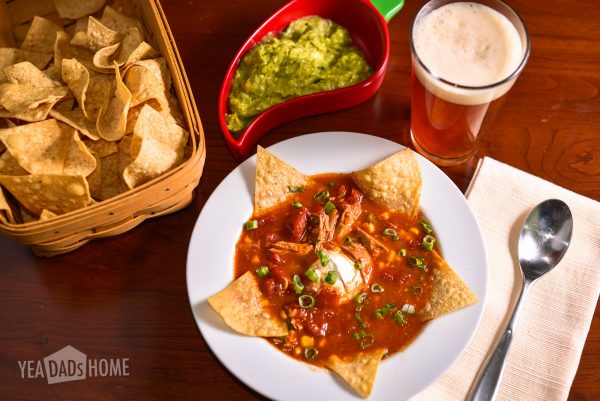 | | |
| --- | --- |
| | |
Instructions
Heat a pan to medium, add olive oil and sauté onions until translucent, about 5 minutes

Add garlic, chili powder, cumin, Worcestershire sauce, and simmer for about a minute.

Add chicken stock, chicken, tomatoes, and simmer for 20 minutes.

Optionally, if you prefer your soup spicy, add chipotle chili powder. Test the flavors and add a quarter teaspoon at a time.

Serve with sour cream, green onions, and tortilla chips