This meatball appetizer recipe has been a hit at our parties. It combines the best of recipes I have tried. Some recipes don't have very many spices for flavor. If you were using them in a dish with other flavors, I can see how you wouldn't want to add spices that would compete. In this case meatballs are the dish, and I like this mix of spices. I also like to use a combination of beef and pork. That adds great flavors too.
One of the reasons these are popular at our house is that they can easily be served warm from a slow cooker. So they don't need to be heated in the oven on party day like some other appetizers do. Whenever guests arrive they can serve themselves. Everyone wins.
No one needs to know, but these are really easy to make. It takes about 30 minutes to pull them together. We have two ovens, so I can put a few sheets in at a time. It may take a bit longer if you need to run a few baking sheets through the same oven. Still that isn't bad. I make these a day before a party. They could be made even earlier. They definitely won't keep you from spending time with your guests.
Bonus… if for some reason you have extra meatballs, they can be cooled, packed into meal sized portions, and frozen for a future meal. They are a great add to a weeknight spaghetti.
Meatball Appetizer References
Americas Test Kitchen
Their recipe uses buttermilk and a blend of meats. I like a bit more pork. I like to have some other seasonings too. You may have to have a login to see the recipe.
https://www.americastestkitchen.com/recipes/6218-classic-spaghetti-and-meatballs-for-a-crowd
Meatball Nirvana
Love the name. Also really like some of their spicing. I like a mix of beef and pork though.
http://allrecipes.com/recipe/meatball-nirvana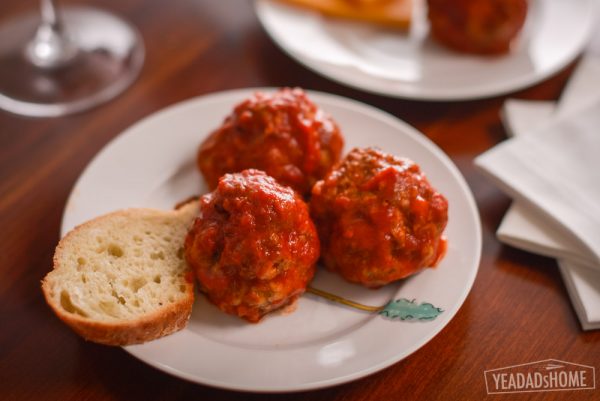 | | |
| --- | --- |
| | |
Instructions
Heat oven to 350F and assemble ingredients.

Remove crusts from bread and cut or tear it into 1 inch pieces.

Combine bread and milking a bowl and mash into a paste

Mix the bread with the onion, cheese, garlic, seasoning, Woccester sauce, and chili powder. I like to do this before adding the meat because the seasoning is best if it is evenly mixed. One time I added everything all at once and I had bites with lots of chili powder and bites with no chili powder.

Gently combine the meats with the bread mixture and form into 1 inch balls. A #40 ice cream scoop works as a nice guide so that you are consistent.

Line a baking sheet with either aluminum foil or a silpat to make clean up easier, and line up the meatballs. I had mine in a nice row. They just need space around them so they cook evenly.

Cook in the oven for 15 minutes or until the center reads 160F. Cool and refrigerate until the party, or put them straight into the slow cooker and add marinara.