This green bean casserole recipe has been a hit at our Thanksgiving. It is a variation on a Alton Brown recipe.
Do be careful with the onions. They can burn if you don't watch them carefully. I burned a batch by using a hotter temperature from the original recipe. I also looked away for a bit. The onions turned from brown to black, and I had to start over. On my second, and successful attempt, I cut the oven temp to 350 F, used conventional vs convection heat, and checked them every 5 minutes.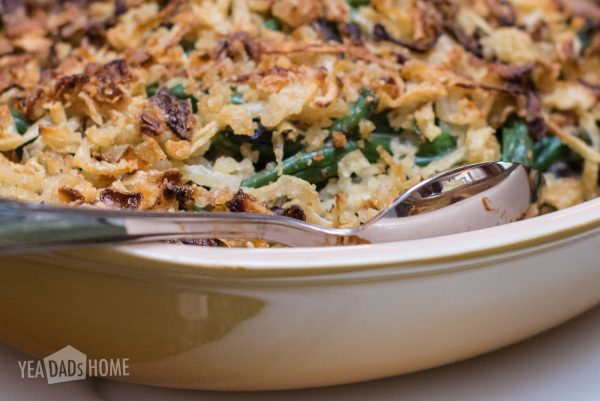 | | |
| --- | --- |
| | |
Instructions
Onion Topping
slice onions then toss them with bread crumbs, flour, and 1 teaspoon of kosher salt

Bake for 30 minutes, tossing them every 5 minutes. The onions will be golden brown.
Beans
Boil water in a stock pot.

Trim and then blanche (briefly boil) the green beans for 4 minutes. Drain.
Sauce
Heat mushrooms in a skillet on medium low with 2 tablespoons butter and sauté until color deepens, about 10 minutes.

Add garlic and nutmeg and cook for 1-2 minutes. Then add 2 tablespoons of the stock to pull the flavors from the pan.

Add 2 tablespoons of flour and stir to combine, Let it bubble for 2-3 minutes.

Add remaining stock, milk and cream. Stir and bubble for 5 minutes until it thickens.
Pulling it all together
Toss beans with mushroom cream sauce then arrange in a 13×9 pan.

Sprinkle onions over top.

The dish can be covered and refrigerated at this point if you are making it ahead.

Preheat oven to 350 F, and bake uncovered for 30 minutes.