This is a recipe for a traditional pumpkin pie for Thanksgiving. It has just the right blend of spices.
We cut the pies into 8 pieces, and make enough for everyone to have a slice. If you are serving pumpkin pie without other desserts, you might want to cut it into 6 pieces.
If we have pumpkin pie spice, we use it as listed below. Otherwise this is a good good recipe for pumpkin pie spice is: 1 1/4 t cinnamon. ½ t ginger, ½ t nutmeg, ¼ cloves.
This pie goes well with fresh whipped cream. To make whipped cream, put your mixing bowl and whisk in the freezer over night. Add 1 cup HEAVY whipping cream, 1 t vanilla, and 2 T powdered sugar in the mixing bowl. Mix on high for 3-5 minutes until the cream holds a soft peak. Light whipped cream will take a really long time to set up, so make sure you have heavy whipped cream.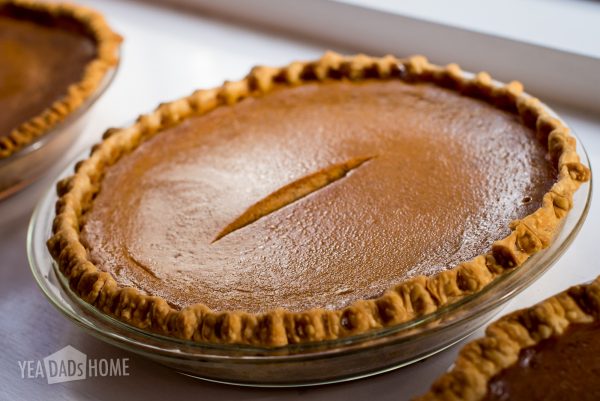 | | |
| --- | --- |
| | |
Instructions
Check the oven racks to make sure they your pie pans fit and that you have room to pour the filling into them while the oven is hot.

Preheat an oven to 450 F.

Set each crust in a pie pan and form a pretty edge using your fingers or a fork.

Add the eggs to a mixing bowl and beat them lightly. Then add the other ingredients and mix until combined.

Place the pie pan(s) with the crusts in the oven, and pour the mix into them until it just reaches the edge of the crust.

Cover the crust with a shield if you don't want it to be overly brown.

Decrease the oven temperature to 350F. Then bake for 40 minutes more. Check the center with a knife to see that it isn't runny. Bake for 5 minutes and check until the center is set.

Let the pies cool before covering with plastic wrap.

Serve with whipped cream or vanilla ice cream.