This summer we decided to buy an RC truck for our son. He is at the right age for it, and we wanted some fun things for him to do outside vs watching TV or playing video games. We have played with ours for a few weeks, and it has a been a huge hit. Here 7 tips for buying your first RC truck that I picked up as I did my research.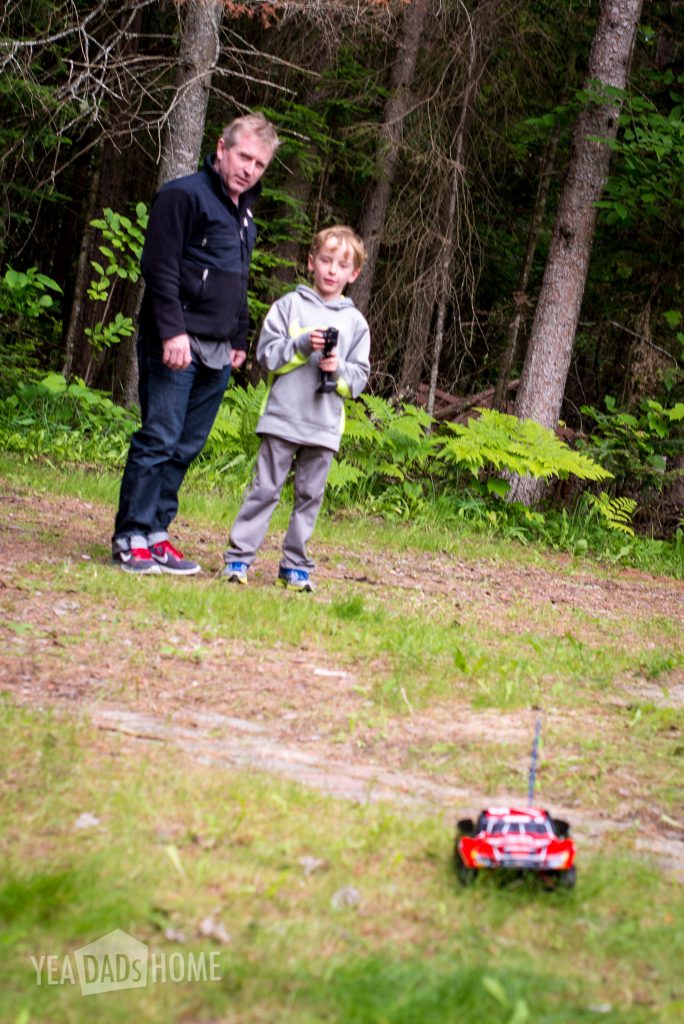 Tip 1 – Pick One That is Easy to Drive
We wanted a starter RC that would be fun to drive. This is harder than you would think. Maybe we aren't the typical customer, because most of the reviews and advice that we found were focused on adults that wanted to make their truck go fast. We aren't planning on racing, so we didn't need ours to go super fast. We didn't need nitro or gas. We picked one that has a "brushed" electric motor which was fast enough for us. It also has a mode that slows it down to make it easier to keep out of trouble. Some day if we want to go faster, we could switch it out of the slower training mode. Also the model we chose could be upgraded to a "brushless" motor if we wanted to make it faster.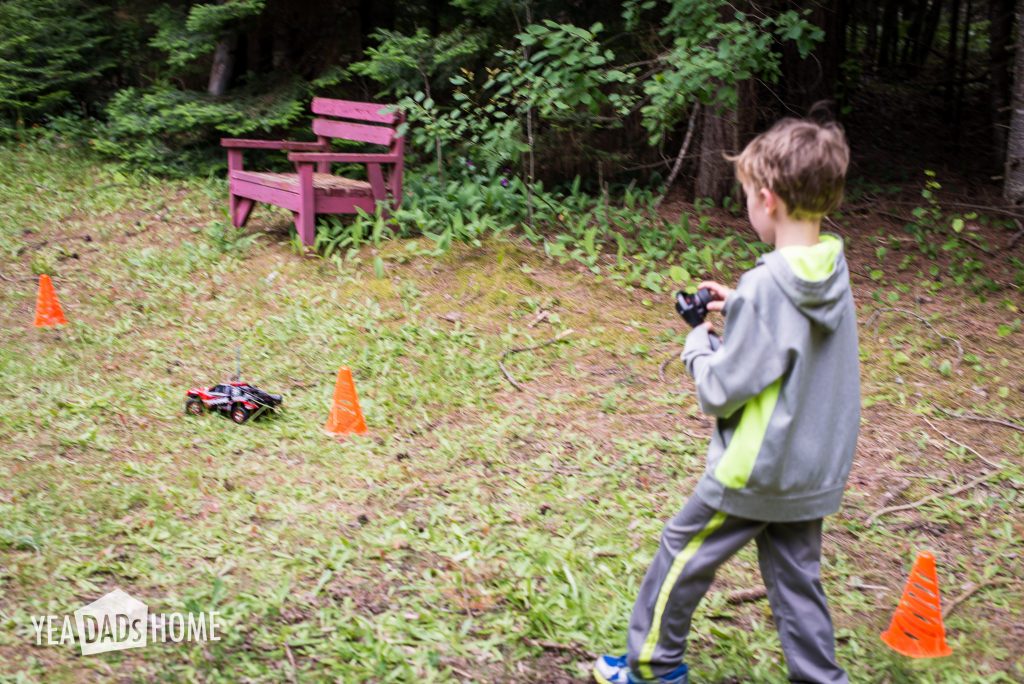 Tip 2 – Look for RTR Models
We didn't want to build the truck. That might be a good project in a few years. For this first vehicle we wanted to take it out of the box and drive it. That kind that are labeled Ready to Run (or Race). The RTR type are already put together. You still need to make sure they come with a remote, batteries, and a decent charger. Ours came with a remote that we could use on a different car someday if we wanted to build a truck.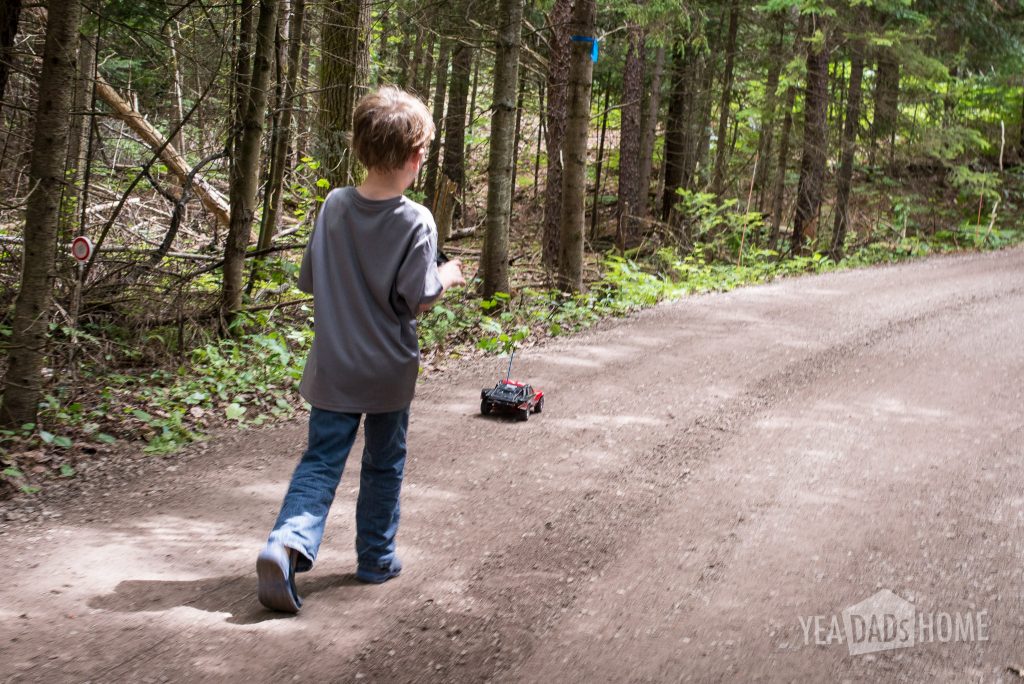 Tip 3 – Consider Durability & Repair
Since we wanted to use the truck around our house in the woods, we wanted one that would work on dirt roads and trails. The model we chose has sealed electronics so it won't get trashed if we drive it through water. Also I don't like disposable things, so I wanted to know that we could buy extra parts if you needed to fix or upgrade something like suspension, tires, motor, servo, bodies. Some models have a community that shares info about which ones are solidly built, and they also have forums and youtube videos that show you how to make repairs and upgrades.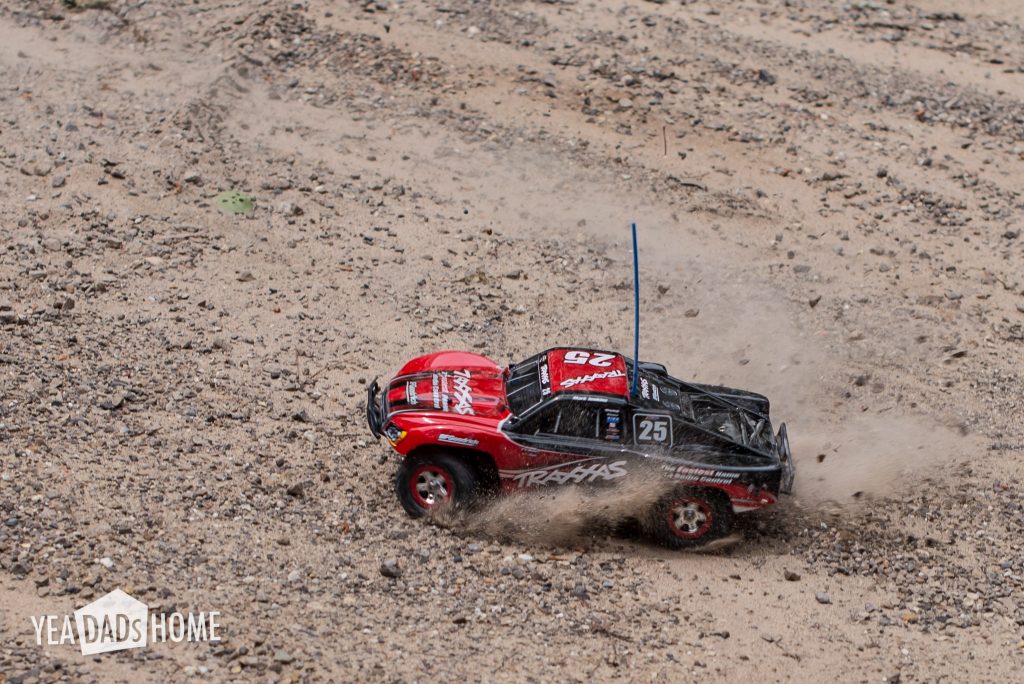 Tip 4 – Scale, Brand Names, and Accessories Affect the Price
Price wasn't my biggest concern. I would rather pay for something that will last a few years than a disposable piece of junk that lasts a few months. Still I was trying to keep the price under control. What we found was that the price on the box is just the start. You had to add batteries and a decent charger to most of the RTR truck kits. Another factor that seemed to make a difference was licensed brand names. If you buy a RC truck that looks like a Jeep or a Ford Truck for instance, you pay extra because they have to pay Jeep or Ford. In some cases it seemed like it cost about $50 to make it look like one of those brands. Also the scale of the vehicle made a big difference in the price. Bigger trucks were more expensive.
Tip 5 – Pick Something Large But Not Too Large
We wanted something that would work on trails and dirt, so we looked for something that was big enough to clear a few bumps. We also want to be able to pack it in the car during vacations. Some of the larger scale trucks are pretty big. We measured the 1/10 scale and thought that would take too much space in our packed car. In some cases the larger scale was about two times as expensive too. So we decided on the smaller 1/16 scale version. It works really well on dirt, some grass, and pavement. The smaller size does have it's drawbacks though. For one it has trouble running through lawn, especially if the grass is wet and the tires lose traction. Since dirt and trails were our focus, the 1/16 worked for us.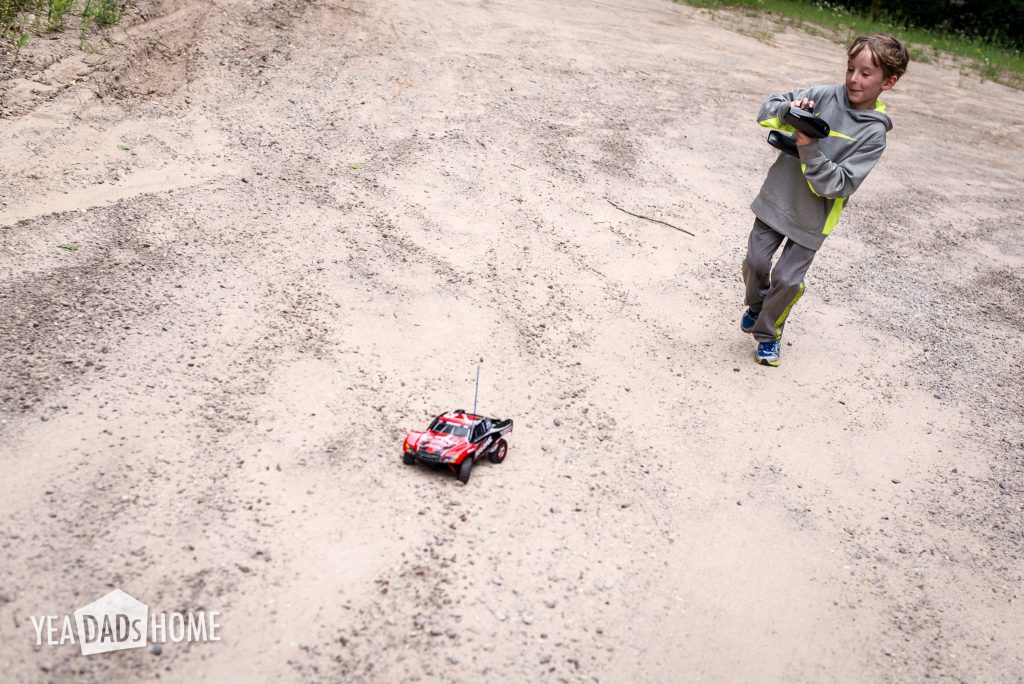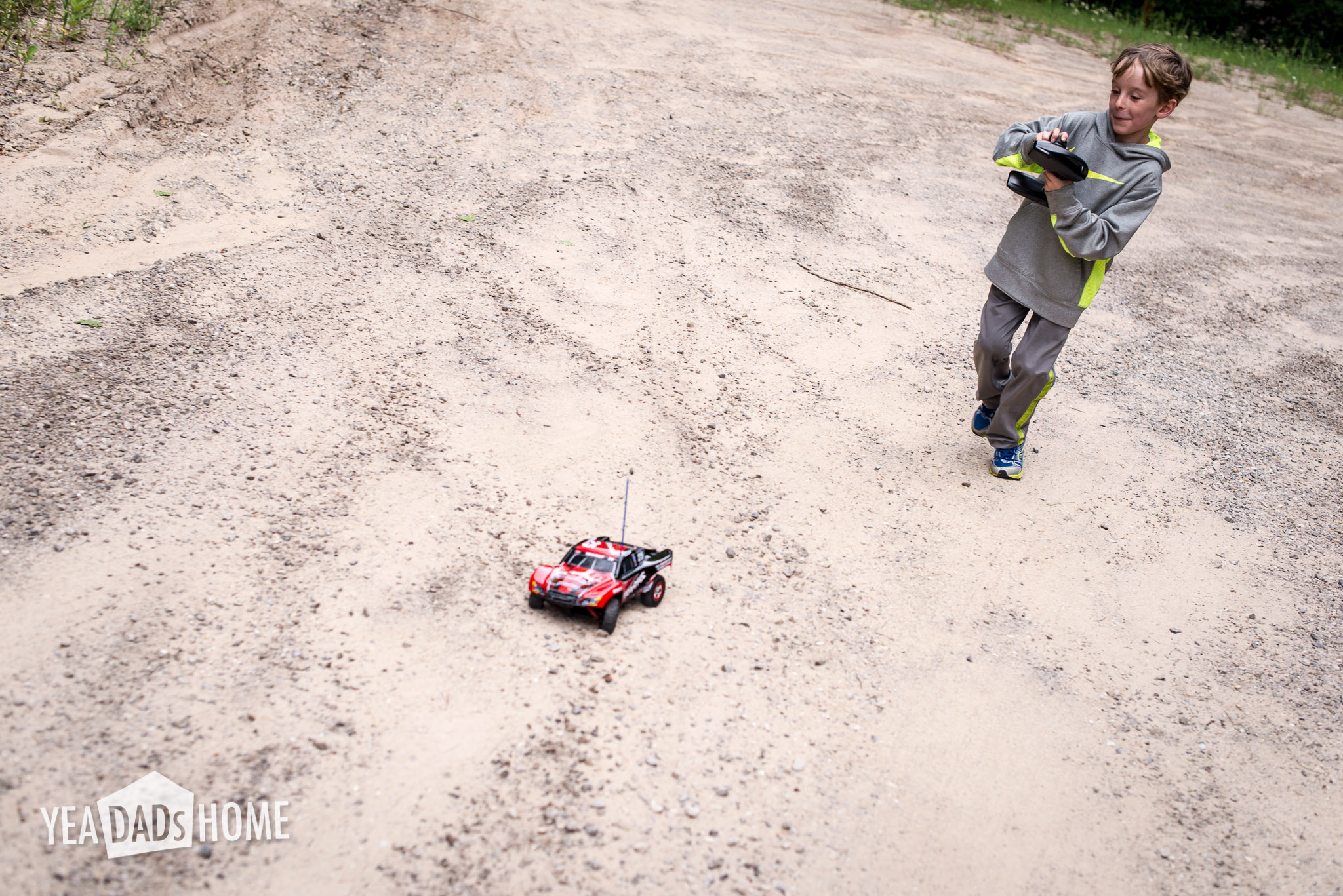 Tip 6 – Make Sure You Have Enough Batteries
If a ready to run truck or car comes with batteries, they still probably won't be enough to have fun. It seems that for cost reasons most kits only come with one low capacity battery.
We bought two high capacity Lithium Polymer (LiPo) batteries (2200 mAh vs the 1200 mAh NiCad included). The high capacity batteries has nearly twice the capacity, and that allows us to use our truck non-stop.
We install one battery at a time, although you could put two in if you wanted. We bought a special Y adapter harness that would let us install two batteries. We tried that and it is nice, but one battery at a time works for us. We charge one as the other is in use, and I like that a battery swap out means a check in at the house every so often.
Tip 7 – You Will Want a Fast Charger
Even if you have enough batteries, the chargers included in a kit may take a really long time to recharge a battery. The manual included with our truck says that it takes 6 hours to charge the low capacity battery. The charger we liked best charged the battery in about 30 minutes. We've played with the truck for about two weeks, and I still don't know how long the batteries last exactly. As long as we have one charging as we play, we haven't had to stop playing because of charging.
This wasn't obvious when I first started shopping, but the batteries aren't charged when open the box of most RC trucks or cars. That means that as you open the package, you need to charge before you can drive. Since I wanted to make this a fun present, I bought good batteries and a fast charger, and I charged up the set before I wrapped the gift.
We did have one false start with another type of charger. It was cheaper, but only works on one type of battery. If you mix them up you can ruin your batteries or worse yet start a fire. We learned that the hard way and melted one battery. The cheaper charger was a waste.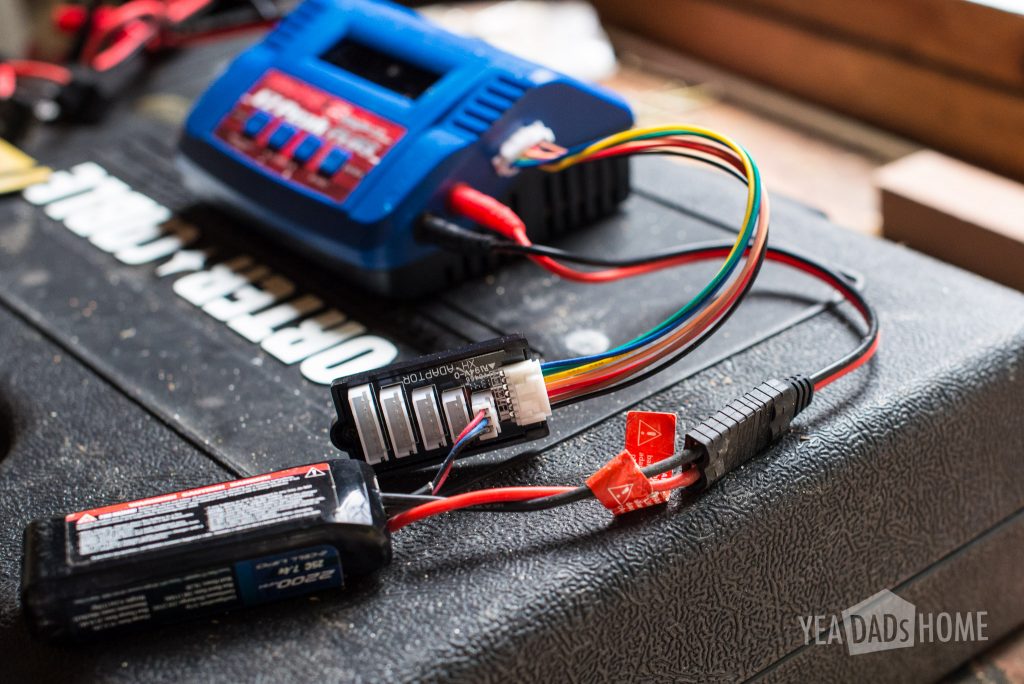 The charger we bought next and really like works on different battery types. Switching battery types involves changing settings on the charger and the RC truck, so we decided to stick with the same type all the time to keep things simple.
So what did we buy?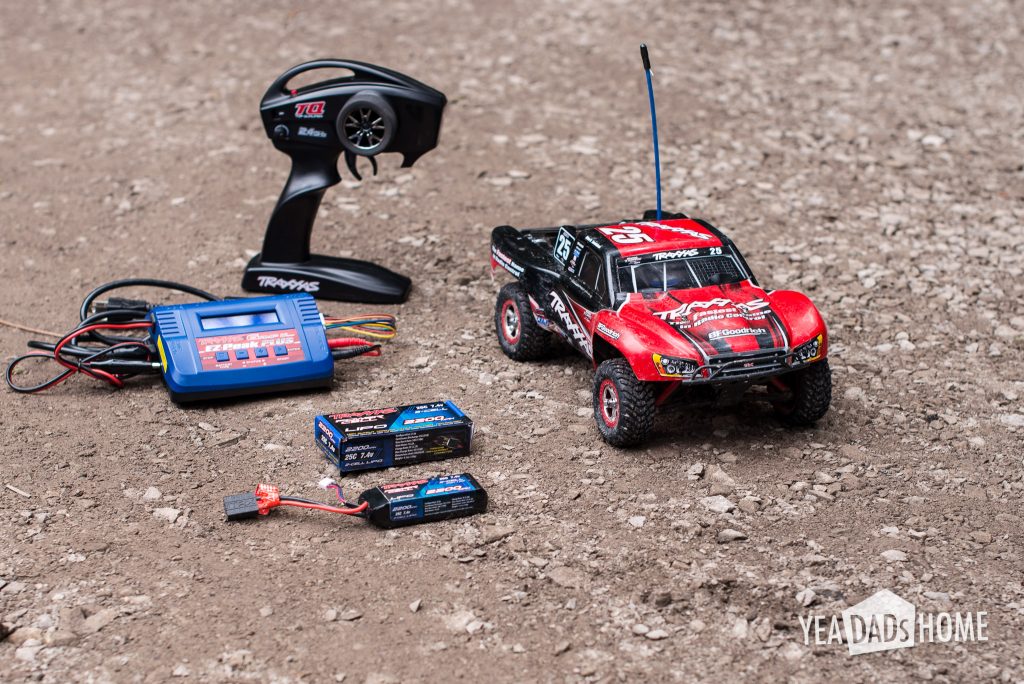 Traxxas Slash 1/16
Amazon sells them and if you have Prime you can get it really quickly.
Traxxas 70054 Pro 4 Wheel Drive Short Course Truck, 1:16 Scale,Colors May Vary
Horizon Hobby lets you pick the color. They have the manual posted here too.
1/16 Slash 4×4 RTR with TQ 2.4GHz, Mark #25 by Traxxas (TRA70054D1)
Fast Charger
Traxxas 2933 EZ-Peak Plus 6 Amp LiPo and NiMH Charger
LiPo Batteries
25C 7.4V 2S 2-Cell 2200mAh Lipo Batt:TRA 1/16 Modl
Adapter Used to Install Two Batteries
Traxxas 3064 Wire Harness, Parallel Battery
What did it Cost?
Traxxas Slash 1/16 Scale Truck $199
Charger $85
Batteries $40 Each (We started with two).
Adapter $6
Total $370
Which pieces can you use on your next Truck?
If you buy a kit to build for your next truck, the remote could be used. It is a pretty standard one.
As you upgrade, you could use the charger for sure. It handles any sort of battery chemistry or size.
The batteries and battery adapter are specific to this vehicle.
I suppose you could use some parts like the tires, motor, or transceiver to make a new truck, but it is pretty likely that you will not, so I would say that the parts are specific to this vehicle.
References:
Comparison of brands
This article has some info the brands. My main takeaway was that some may be less expensive, but they tend to be built cheaply and are more likely to break.
http://www.instructables.com/id/The-COMPLETE-Guide-to-RC-Cars/
Vehicle Types
This is a few years old, but this article has good advice on choosing between the types of vehicles.
We picked a truck vs car because we wanted to use it on dirt and loose rock. If we were going to spend most of our time in a parking lot, maybe we would have chosen a car vs a truck.
http://www.rcknowhow.co.uk/blog/2011/05/06/5-tips-for-buying-your-first-beginners-rc-car/
Description from Traxxas
Traxxas has a description of the truck we bought and the LiPo Batteries that work with it here:
http://traxxas.com/products/models/electric/70054slash1164x4
Parts
Lots of sites have parts for the Traxxas Slash 1/16. Here is one:
http://www.rcplanet.com/1_16_Slash_VXL_RTR_Truck_Replacement_Parts_s/1903.htm?searching=Y&sort=5&cat=1903&show=180&page=1

Videos
Jang from Ultimate RC has a lot of great videos that were helpful.
Storing LiPo Batteries
Batteries, especially LiPos will last longer if you take care of them. Not only do you need to set the low voltage detector on your truck, but you also need to unplug them when not in use. We destroyed one of our LiPo batteries by leaving it in the truck. The voltage got too low and it we couldn't save it. We learned our lesson, and now we take them out and use the "storage" mode of the charger to set our LiPo batteries to a safe voltage.
http://www.rccaraction.com/blog/2013/12/06/how-to-properly-transport-care-for-and-store-your-lipo-batteries/