Stuffing is one of the dishes we have experimented with the most. We've tried several types, and this cornbread stuffing recipe is our favorite.
We like to make stuffing in it's own pan rather than in the turkey because we want more servings than we can prepare in the bird. You also have to be really careful to keep the bird in the oven long enough to get the stuffing to 165F, and that can cause you to over cook the turkey.
The recipe is based on the Smoke Daddy recipe that Kevin Ives shared on WGN. You can't go wrong with sausage, bacon, onions, and sage. The cornbread soaks up all those flavors.
One shortcut I have used when I am in a rush is to use cornbread from the deli. Two pounds of cornbread work as a substitute for the home made cornbread described below.
This dish can be made a day ahead. It can heat up in the oven as the turkey is taken out to rest before carving.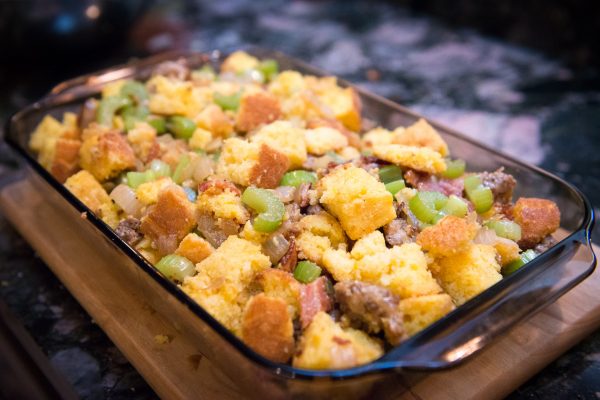 | | |
| --- | --- |
| | |
Instructions
Make the Corn Bread
Preheating an oven to 400 F with a 10 inch cast iron skillet in the oven as it heats.

Mix up the dry ingredients including corn meal, flour, sugar, baking powder, and salt.

In a separate bowl whisk the milk, butter, and egg.

Stir wet and dry together until just combined and still a bit lumpy. Let set for 10 minutes as oven and skillet heat up.

Carefully remove blazing hot skillet and pour batter into skillet. Return to oven for 20-25 minutes until the cornbread is nicely browned.

Move cornbread to a cutting board. I set the board on the skillet and turn both over. Then cut cornbread into 1 inch pieces.

Dry the cornbread by spreading the pieces on baking sheet in a 200 F oven for 20 minutes.
Cook Some Bacon
Cook and drain bacon. The simplest way we have found is to arrange bacon on a baking sheet and cook in a 350 F oven for 15 minutes.

Cut the bacon into 1/2 inch pieces.
Assemble the Stuffing
Cook sausage with 2 T butter until sausage is browned, about 15 minutes. Remove sausage using a slotted spoon.

Add onion, sage and celery and cook an additional 15 minutes. Celery should still have some crunch.

In a large bowl, combine bacon, sausage, onions, and celery. Add torn pieces of corn bread, about 1 inch each. Toss with eggs. Pour into a 13×9 baking dish. Pour chicken stock over the mixture. The dish can be refrigerated at this point if you are making it for a big dinner like Thanksgiving.

Bake uncovered for 30 minutes.