These pepper jack potato skin appetizers make great cold weather party food. Not only are they warm but pepper jack can add some nice heat.
Pepper jack cheese can vary quite a bit. You should test the cheese to make sure you like the spiciness. If it is too hot, you could mix it with normal jack cheese. if it is not spicy enough, you could add some minced jalapeños or other peppers. One year we found habanero jack cheese, and that was way hotter than normal. Some people really liked the heat. Not everyone did though. We are back to using a regular pepper jack.
Like a lot of the party food that I like to make, this one is made in advance. I usually make them the day before a party. I fill baking dishes with batches, cover them with tin foil, and refrigerate them until the party.
During a party I uncover them and put them in the oven for 5-10 minutes to warm them up and melt the cheese.
They are best when they are warm, so they are best if they haven't been on a serving tray for too long. We usually just put them in one spot on a food table and let people find them, but they would be warmer if we walked them around. It seems we only have time to do some of that because of all the other hosting things to do.  These are great though because if you leave them on the food table, and they cool off, they can be reheated over again.
If you are concerned about finding gluten free appetizers, these can work. You just need to find the right mustard.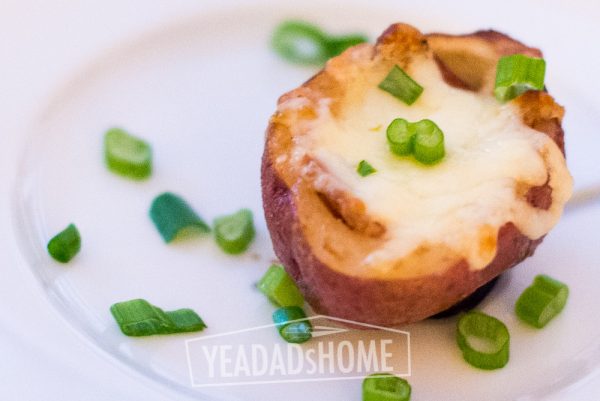 | | |
| --- | --- |
| | |
Instructions
Preheat oven to 400F and assemble the ingredients.

Place bacon on a baking sheet (with a rack if you have it) and cook until browned 15-20 minutes. Let cool.

Spread oil on a baking sheet.

Mix butter and mustard in a small bowl.

Cut potatoes in half, then use a melon baller to remove all but 1/4 inch shell.

Toss potatoes in the butter and mustard mixture.

Arrange potatoes cut side down on the baking sheet and sprinkle with sea salt

Bake for 25 minutes

Turn potatoes upright and sprinkle with bacon then cheese.

Return to the oven for 5-10 minutes to melt the cheese.

Garnish with green onions