This hearty tomato soup is a favorite as an easy lunch or dinner. We adapted this recipe from a few that we have enjoyed. Worcestershire sauce gives it some character, and sour cream takes a bit of the bite out of the tomatoes. It can stay hot on the stove and can feed a crowd. When the weather turns cold, we pull this one out because it is so tasty and versatile.
The ingredients also store well. Onions and sour cream are the fresh ingredients involved. Both last for a few weeks, so you can stock up and make the soup as you need it.
If that weren't enough, the leftovers can be canned and stored for a later time. We usually scale the recipe up. If you want to adjust the recipe below, you can change the servings and the ingredient list updates for you.
Last weekend we made this hearty tomato soup with grilled cheese for a family party at our house.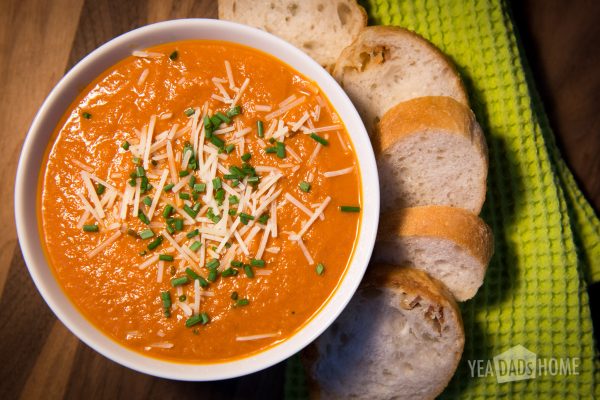 | | |
| --- | --- |
| | |
Instructions
Dice the onion, celery, and carrots. Reserve the celery leaves for a garnish.

Heat oil in a medium sauce pan.

Saute onion, carrots, and celery until soft, about 10 minutes.

Make a space at the bottom of the pan, and add the garlic. Cook for about one minute.

Add tomatoes and stock. Cook for about 15 minutes.

Add sour cream and Worcestershire sauce, and stir to combine.

Optional - Remove pot from the burner and use an immersion blender to smooth the soup.

Check the flavors and add ground pepper and Worcestershire sauce if needed.

Garnish with grated parmesan cheese plus minced chives or celery leaves.