These braised pork chops with caramelized onions are amazing for a weekend meal. In this dish you taste the tanginess of the tomatoes first. Then the carmalized onions and soy sauce just dance (or add complexity as they say). The dish pairs really well with a medium red wine like a Merlot or Granacha. We typically serve it with brussel sprouts and smashed potatoes. Between the brine and the caramelized onions, the meal takes more time than we typically have to prepare dinner during a week night, but this is one of our favorites, especially in the colder months.
To reduce your stress, you can make the caramelized onions up to 5 days in advance. Even better, make more onions than you need for this recipe and use it in other meals. Caramelized onions add depth to soups and pasta sauces. The key for the onions is to use a bit of salt, keep them covered, and cook them over low heat. If you open the lid too often, they can start to dry out. I did this last time and was able to recover by splashing a bit of dry white wine (Sauvignon Blanc) in the pan. A little beer would to deglaze too. They need a bit of moisture to prevent them from burning. Once you have them caramelized, store then in the refrigerator if you aren't using them right away.
Braised Pork Chops with Caramelized Onions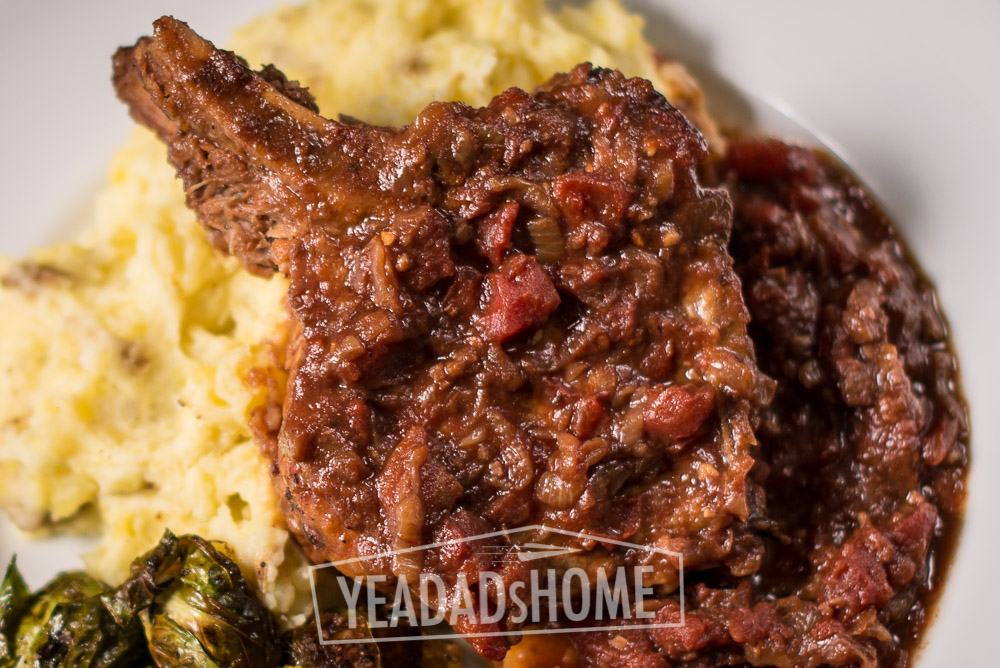 References
Here are the recipes that I relied on to make this dish.
Crunchy Creamy Sweet 
http://www.crunchycreamysweet.com/2014/02/09/braised-pork-chops-lemon-garlic-red-potatoes-recipe-giveaway/
Caught this this week and need to try this recipe, especially the potatoes. We always need new ideas for potatoes. Anna did a better job of browning than I did. Note to self…have to remember to get the pan hot before putting the pork chops in the pan.
Americas Test Kitchen
http://www.americastestkitchen.com/videos/2418-red-wine-braised-pork-chops
You might have to sign up for their site to see the info. I always like their food science. I used their brining suggestion. I think I would always brine overnight. It is just easier.  They cook for a lot longer on lower heat. I might try to make this dish in a slow cooker. I need more meals that I can put together, and let them go for 2+ hours, and plate at 6pm. next time I might add carrots to our braise.
St Francis
http://www.stfranciswinery.com/culinary/recipes/categories/main-course-pork/pork-chop-with-caramelized-onion/
This is where I got idea for caramelized onions and tomatoes. I like a bit less soy sauce and more tomato than they had in their recipe. By the way we love the wines St Francis ships from the vineyard. Behler Merlot is awesome, and works really well with this dish.  St Francis also put together really fun food plus wine tasting menus if you get out to Sonoma.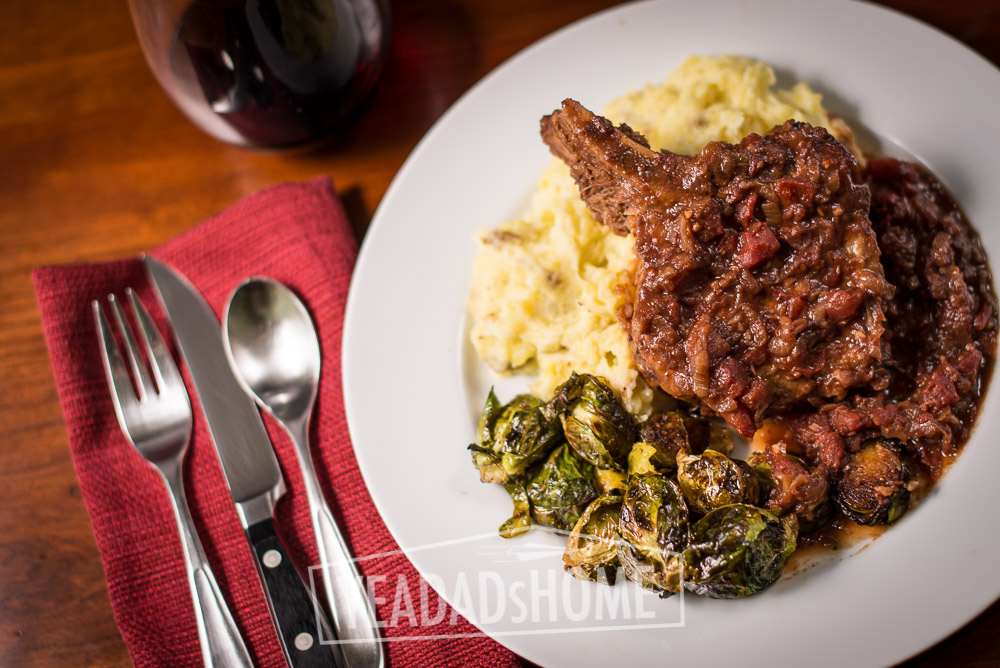 | | |
| --- | --- |
| | |
Instructions
Mix salt and water together to make a brine. Add pork chops and let the brine do its magic for at least 60 minutes (or overnight) in the refrigerator. I like to use a gallon sized ziplock bag, but some recipes recommend using a large bowl or dutch oven.

Add 2 T olive oil and onions to a dutch oven. Cook covered on medium low for 30 minutes, stirring every 10 minutes. Remove to a bowl.

Remove pork chops from brine. Discard the liquid. Pat pork chops dry, and dredge in flour.

Add 2 T olive oil to the dutch oven. Warm to medium high. Make sure the oil is hot, then brown pork chops on all sides, about 10 minutes.

Add wine to the pan, and use a spatula to pull the browned bits from the bottom of the pan. Then add remaining ingredients: tomatoes, garlic, and caramelized onions and bring to a simmer.

Cook uncovered for 30 minutes. Add chicken stock or water if the sauce gets really low. We typically don't have to do this.

Check chops to make sure they are at least 145 F. Remove pork chops and tent them with foil to keep them warm. Simmer braising liquid for 5-10 minutes to thicken it into a sauce if it isn't already thick enough.

Plate, serve, and see what happens next.