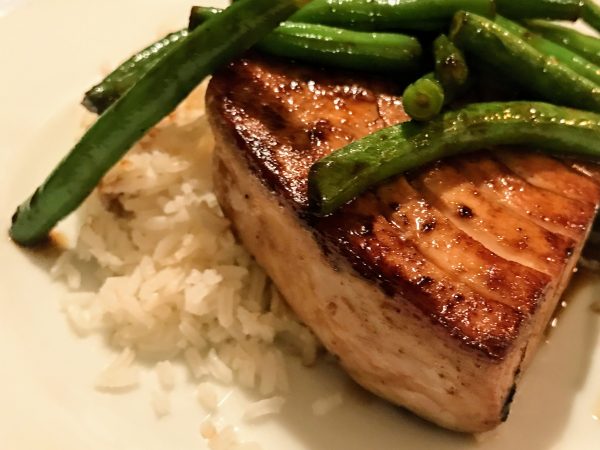 | | |
| --- | --- |
| | |
Instructions
Bring a pot of water to a boil for cooking the beans.

Mix soy sauce, brown sugar, wasabi, and garlic in an 8x8 inch pan. Add tuna and turn it several times to coat it with the marinade. Let the tuna rest for 15 minutes.

Add oil to a skillet and bring to medium hight heat.

Boil green beans for 3 minutes then drain and set aside.

Remove tuna from marinade. Reserve the soy sauce mixture for later.

Carefully add tun to the skillet, and sear to your desired level. One minute per side will be rare. Three minutes per side will be opaque.

Add marinade and green beans to the pan. Toss for a minute until coated.

Plate the tuna with green beans.
This seared tuna with green beans recipe is a favorite for a fancy dinner at home. It has been our go to choice for Valentines dinner or birthdays for the past 10 years. My pictures below aren't the best. iPhone shots will have to do. Since we are usually celebrating, I haven't let a photo shoot with my good camera to take over those events. It is a great recipe though.
Finding good quality tuna is .the trickiest part. We have a fish market in our neighborhood which helps. They have tuna which is flash frozen on the fishing boat. Since the tuna that we have available is sushi grade, we prefer to sear it and keep the fish rare inside. A minute per side is all that it takes to cook. If the tuna wasn't as high a quality, we would cook it a bit more.  Three minutes on each side would be fully cook the inside until it is opaque.
Green beans are a nice compliment. Beans add some good color, and the marinade for the tuna makes for a tasty sauce. Rice or mashed potatoes also are good additions. For all of the sides, make sure to prepare them before you sear the tuna since it cooks pretty fast. Also you will not want to be splashing water near the skillet. It will spit hot oil all over if you do, and that can be dangerous.
Tongs are helpful to keep your hands away from the oil as you add the tuna to the pan. Tongs also help can be used to hold the tuna as you quickly sear the sides.  You can stack the tuna steaks together as a you sear the sides.
To assemble the plates, we add a portion of mashed potatoes or rice. Then the tuna goes on top of that. The beans can either be set on the side of the plate or on top of the tuna.
We have paired several wines with this dish. A Pinot Noir or red light red Burgundy are good compliments. In the summer we will sometimes pick a dry rose.