This cyclops cookie recipe is one of my favorites. They have soft peanut butter cookie and a Hershey kiss melted into the center.
We made these every Christmas when I was a kid, and now we are enjoying making them with our son. This is definitely a kid friendly recipe.  The dough comes together easily. Someone gets to roll balls of cookie dough in sugar, and unwrapping chocolate kisses is another fun part of the process. Why cyclops cookies at Christmas? I got that question from a friend recently. The recipe was just fun for kids, and this one was always on our short list to make. It does compliment the other cookies that we make. We don't make any other peanut butter cookies.
The pan is hot as you add chocolate kisses to the top, make sure everyone not involved keeps a safe distance. It is something kids can do. We have our son add the chocolate kisses. Just be careful of the hot baking sheet.
The original version that we used for this recipe came from a Betty Crocker cookbook that was focused on baking with kids. We have tried some versions that had a crunchier peanut butter cookie, and I like the soft peanut butter cookie better. We did change the size of the recipe. This one is set up for the batch sizes that we prefer. You can change recipe size by adjusting the number of cookies in the recipe below.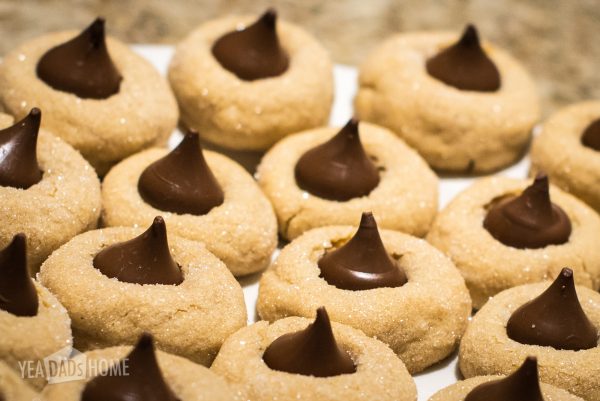 | | |
| --- | --- |
| | |
Instructions
Combine butter, peanut butter, sugar and brown sugar in a large bowl and beat until fluffy.

Add egg, milk and vanilla to the mixture. Mix well.

In a second bowl, combine dry ingredients including flour, baking powder, salt and soda.

Gradually add dry ingredients to the wet ingredients.

Chill batter for one hour. This makes the dough easier to handle.

Unwrap the Hershey kisses.

Add the sugar for decoration to a bowl.

Shape dough into 1-inch balls. Roll in sugar. Place about 2 inches apart on un-greased cookie sheets. We use silpat cookie sheet mats to make clean up easier.

Bake for 10-12 minutes or until edges are firm. As you pull the cookies from the oven, carefully press a Hershey kiss into the center of each.

Cookies should cool overnight or for an hour in the refrigerator before stacking them for storage.