These Christmas wreath cookies are a hit with most everyone, especially kids. They are super colorful and brighten up any cookie plate. They are also pretty easy to make. The recipe is similar to Rice Crispy Treats. For  Christmas wreath cookies, you use Corn Flakes though.
As you can see take some liberty with the wreath. Some recipes shape a full circle wreath which is pretty. The full circle wreaths are pretty big. Our take on this Christmas wreath is less literal. Most of the cookies are about 2 inches across.
When we were kids, the recipe that we used included red cinnamon candies. Those were never the best part for me. Now that M&Ms come in holiday packs, we can use red M&Ms instead. I find those to be a nice improvement. If you buy holiday pack that is 11 ounces, you should have plenty for this recipe. We used our kitchen scale to weigh M&Ms and found that about 40 are in one ounce. So an 11 ounce pack with about half red and half green will have over 200 of the red ones. Separating out the red M&Ms is a good job for kids.
We adjusted our recipe, the one below, so that you can use full packages of marshmallows. In the one we used when I was a kid, we had to count out 40 marshmallows. That recipe might have been trying to make a specific number of cookies. Adding a pack is much easier. It also lets you use either the big or small marshmallows too. If you want to adjust the number of  Christmas wreath cookies,  you can adjust the quantity below and the ingredients will adjust.
Clean up isn't too tough if you soak. After making our last batch, I filled it with water and let it sit overnight. In the morning it wiped out easily. It wold have been much more difficult if I had tried to scrub the green marshmallow mix out before soaking.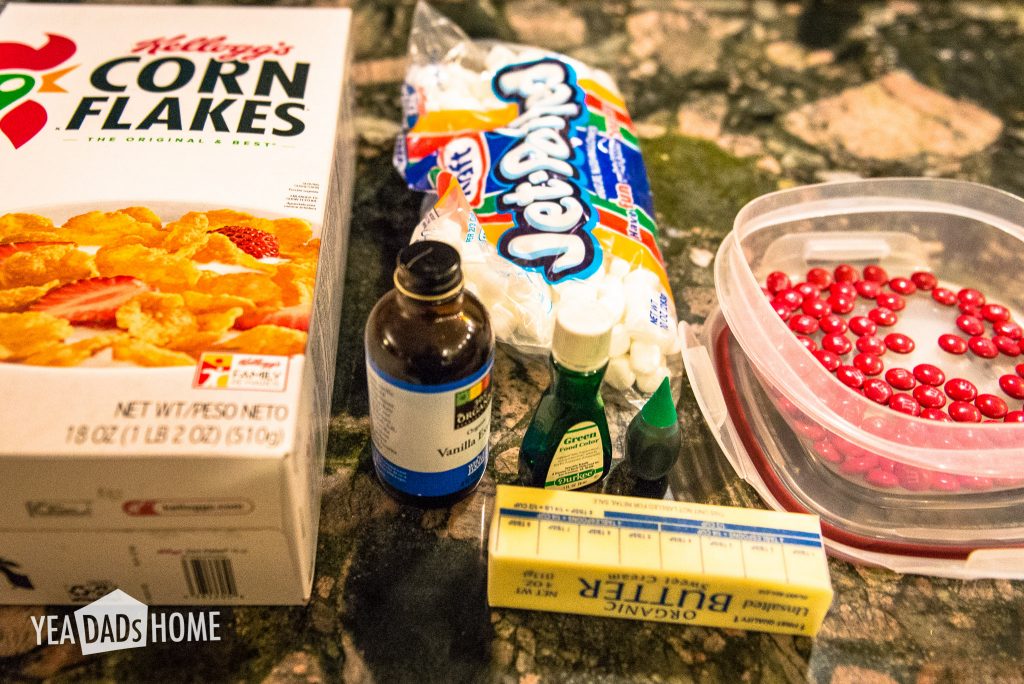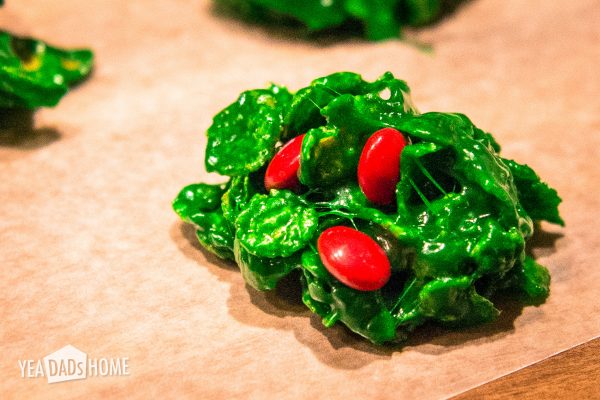 | | |
| --- | --- |
| | |
Instructions
Melt butter and marshmallows in a large saucepan.

Remove from heat. Add vanilla and food coloring. Stir to combine.

Gently fold in cornflakes.

While warm, shape into cookies. Place on wax paper, and add two or three red M&Ms to each.

Allow to cool for an hour before moving to a storage container or cookie plate.